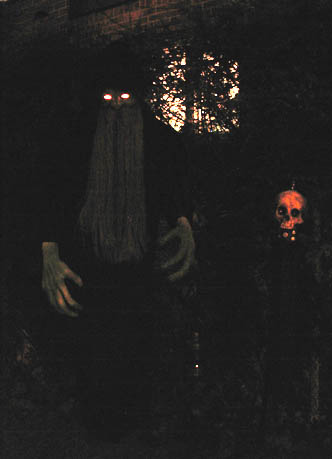 This is a shot of the Gate Keeper the night of the party. Since he was a last minute addition he was only a static prop.
He was constructed using a 1/2" pvc frame with a chicken wire torso. Some foam padding was added to give him a little more of a bulky look. Dowels were forced into the hands and they were attached to the arms with screws.

I put the pvc frame into a block of wood big enough to fit inside a 5gal pail, then added some bricks to weigh it down. Using the pail allowed me to easily move the Gate Keeper around with the handle. You can see the green pail in the daylight picture near the bottom of the robe.
I used a cheap latex mask and a polyester "Priest" robe from a previous years After Halloween sale that I got for $1. The hood was left over from a full monk's costume that I modified to create the "Uncle Fester" costume for my friend.
To enhance the creepy look, I glued some opaque eyes made from amber hot glue to the inside of the mask, then added some yellow LEDs, 9V battery and a switch.
I originally intended to use the hands from Terror Syndicate for my "Osama" dummy but the scale wasn't right, so I employed them here and painted them to match the skin tone of the mask. I preferred to use a material robe rather than a Monster Mud one since the movement of the robe in the wind gave the impression that the Gate Keeper may be a person in a mask instead of just a totally static prop. The hair from the mask added to this impression, several of my guests were hesitant to pass him at first.
I plan to make some modifications in the future to hook the LEDs to an Audio Eyes Module and add a motion controlled endless loop tape player to greet my guests.